Hello y'all!  How's this week treating you so far?  The older I get, the faster time flies and I cannot believe it's Wednesday already. :P Since it's Wednesday and all, I'll post about my eats today with a WIAW Party from Peas & Crayons.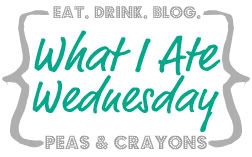 Not only that, but I want to share a pancake recipe that will literally rock your socks off!!  That is, if you can handle it.  Can you handle the truth?!  You can't handle the truth! Ok sorry, random Ellie moment there.  My hat is too tight.  *sits down quietly* :P
My morning started with...
Coco-Apricot Swirl Buckwheat Pancakes *VG*
Ingredients:
1/2 C buckwheat flour
1/2 tsp baking powder
1/8 tsp salt
1 TBSP ground flax+3 TBSP warm water (let sit for at least 5 minutes)
1/4 C + 3 TBSP almond milk
1/2 tsp vanilla
6 drops vanilla bean Nunaturals Stevia (totally optional!)
1/2 TBSPNunaturals Fiber (optional too!)
Directions:
1.  Grab a medium bowl and mix up all the dry ingredients.
2.  Then, just add all the liquid ingredients and thoroughly whisk!  But don't OVER-WHISK.
3.  Really lightly heat up apricot preserves (or any jam of choice), and scoop a few TBSP into a ziploc bag along with some coconut butter.  I used Artisana's Coco-butter but you can certainly make your own.  Then, cut a little hole at the tip of the bag.
4.   Heat up a skillet on med heat and lightly spray it with oil.  Wait until heat is evenly spread out.
5.  Ladle on the batter about 1/4 C or less and immediately start swirling the coco-apricot mixture inside the batter.
6.  When it's slightly bubbly on top, flip the pancakes and let sit for a few minutes.  Voila!  Serves 2 small servings or one big serving. :D
Haha yeah...sorry for the blur!
Mmmm buckwheat pancakes are seriously one of my favorites because they are so light and naturally fluffy. :)
I pretty much love anything that's pancake-y and crepe-y:
Come lunch time after working with my student Cameron, I decided that enough was enough and drove down to Great Harvest in Pasadena!!  Haha, it only takes about 30 minutes to get there on a good day, and thanks to Sophia I have discovered my new go-to bakery, eeeek!  :D
I got some Mission Street Crunch Bread and Dakota Bread which is often featured in Kath's blog.
They gave me some samples and I almost needed someone to keep me from fainting, ahh!  I also bought some Berry Bars for Greg and myself+sis+nephew. ;)
Which I crumbled on top of my Green Monster smoothie in a bowl.
Just as a side note, I'm sure you're all wise enough to know that these aren't the only things I eat in a day!  There were many other undocumented things here and there--just wanted to clear that up. ;)
Dear amigos, lately my body has been completely out of sync and it has been roughly a month.  I won't go into detail with the exact symptoms as this post is already long (you can ask personally if ya want), but I went to the doc yesterday and took some tests.
Partly of what has been going on has been revealed, and I'm basically treating it with antibiotics.  The other side to this story is that the doc wants to see me next week for additional blood results because he suspects something else.  So I'm just hoping that all goes well!
I have to admit that yesterday I felt a bit strange knowing all of this info!  There were times when my identity got attacked by negative thoughts, and I'm sure that we all understand what this feels like.
The great thing about it is that Christ has been teaching me to hang on to Him through the good and the bad.  Am I just going to let a "POSSIBLE" disorder reign my life?! Absolutely not!  Although discouragement entered my heart, I simply kept laying the burdens down before Christ.  Sometimes, it takes more than one simple prayer, but I believe He wants us to persevere in those moments.  Or else, faith would be easy and we all would have crazy faith!  But is that faith at all...?
Admittedly, my self-esteem began to weaken and my heart wanted to run into the valley; however, I knew that I am more than a conqueror in Christ Jesus and immediately, He took me back up the mountain!  He is the God of the mountains AND the valleys...He's the God of all... :)
I'm not sharing this so that you would feel sorry for me (as we don't even know the results!) but I am doing it because I want to be the testimony in that Christ is Lord and He isn't afraid to listen to our joyful times and our concerning times.  He can handle it, and all we need to do is make Him our only love and lay our burdens down before Him. I know we don't all share the same beliefs, but He's waiting to surprise you with His amazing love!
Another thing I learned through this is that, regardless of the positive or negative results, I shall praise Him and love Him because He deserves it! A wise man once said, "Peace isn't the absence of circumstances, but it's being able to be still in the midst of circumstances."   So in this I declare that I love Christ with all my being and no matter what happens in my life, He is just+loving; therefore, He deserves the glory.
I'm so glad that I'm not in control of my life or else I would be a mess for sure.  :D
"Cast your cares on the Lord and He will sustain you; He will never let the righteous fall." ~Psalm 55:22~
I hope you have a beautiful day and enjoy it to the fullest!  Thank you so much for reading and I am so thankful for every one of you.
What's your favorite food this week?
When was a time when you went through a scare and had to let it go?  Or, do you still?
Thankful,
Ellie <33