Hi dear friends!! I just want to let you know that I truly appreciate every single one of you readers despite my serious times, and my silly times. :D Teeheeehee...I guess I sort of jumped onto the bandwagon of Jenn's WIAW from Peas & Crayons.  Thank you for this fun link Jenn!  Check out her blog if you have the chance.  She's a truly sweet gal and I'm sure you'll think the same.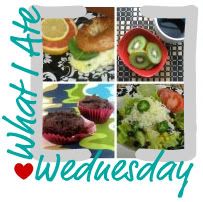 Before heading off to work, I had some
Farro Porridge
cooked in almond milk, banana, dried apricots, and vanilla beans.  I topped it off with my new
Sunflower Espresso Granola
, peach+apricot preserves, walnuts, and Artisana coconut butter.
It was very tasty and I recommend eating most porridges with peach+apricot preserves!    They were made for each other. :)
Today's lunch featured Mother's Korean Bean Paste (AKA Dwenjang) soup with some leafy stuff of which I don't know the English name haha!  Let's just call it The Leaf That Must Not Be Named.
I paired it with toasted Rudi's Spelt English Muffins, provolone, onions, and semi-homemade BBQ beans, with roasted carrots on the side.  I used TJ's Kansas BBQ sauce and it pretty much tasted like a healthy chili! ;)
I worked out for an intense 15 minutes doing Interval training exercises and ended up sweating like a pig! Wait, do pigs sweat??!  Oh, what a silly question.
After a grueling (and fun) workout, I usually opt for a cold smoothie or protein green monster, but this time I decided to have something a wee bit more natural.
This bowl contains Fage Greek yogurt, plain kefir, banana, watermelon, SSB+espresso Granola (again), and sunflower seed butter.
I guess I was really craving something with lots of tang!  That, and I didn't want to wake my nephew up with my loud blender.  You know, me being a great aunt and all. ;)
I hope you enjoyed my WIAW!!!
***********
Yesterday i went to an intercessory prayer meeting.  We spent a few hours praying for the church, the pastors, our nation, and the world basically!
I am so stoked about what's to come!  I genuinely feel like God is up to something, and that something is gon' be good. :D
Tonight Greg and I went to a Bible study that we normally attend on Wednesdays.  The pastor never fails to bring up mind prodding questions and controversial statements.  We literally learn so much every time we go.
We discussed Mark chapter 7 and the take home message was that we so easily become entrenched in traditions, yet we never question them.  We all follow a tradition of some kind whether we like them or not.
For example, the Bible doesn't specifically command, "Thou shalt pray before your meals"; however, if we truly know Christ and His sacrificial love for us, then shouldn't we always be thankful for everything regardless?  In the end, it can't be a bad thing.
Not only that, but Jesus lead by example when He directly thanked God the Father before He broke the bread and the fish in the Gospels.  To me, there is no better example than His actions!
Obviously, praying before a meal is always a good thing--unless it becomes something we feel guilty of if we don't follow it.  Everything we do for God should be done with the right heart.  Even the "right" things can be unhealthy if we let them control us.
Christ died and rose again for US so that we can be free from sin and bondage to human traditions!! He doesn't want us to be enslaved to anything...His desire is for us to be free.  Otherwise, His work on the cross becomes nullified and doesn't mean anything in our personal lives.  The things that come out of our hearts and mouths are what matter, not the traditions that supposedly make us better individuals if we were to follow them to a T.
So what traditions do we follow that we don't even know the meaning of, but we still do them? There are just so many out there!  But God delights in a heart that is truly seeking Him and glorifying Him.
Gosh, I wish I could write up all my thoughts in here!  But this little post of mine can only handle so much at this moment.  Next time! :D
My hope is that you will always find truth, and in return, that you will find the fullness of joy in Christ, who loves you and deems you so highly!
When you and I go through the roller coasters of life, He wants to be our ROCK.  I mean, how could such a great God care about our little selves, our big problems, and sometimes even our embarrassingly small problems?  The truth is that He cares.  He cares for the most minute things we can think of.  I hope you know His amazing love tonight.
No problem is too great or small for Him to handle, and boy am I glad about that!
[source]
Grace & Peace,
Ellie <33