Have I told you yet that I love you guys? It is not only because you visit my humble abode every now and then and leave me heart-warming comments, no...it's actually deeper than that. :) Let me assert that I don't like to use that word mindlessly and just go off telling anybody just because I feel like it. However, I feel strongly that no one should ever go on in life without hearing those words!!
But you know what? My love truly is limited due to my humanity. Despite that, I know the One who loves you with all of His heart, soul, mind, strength, and LIFE! (literally) And that Someone is Christ Himself.
I hope you know that there is always hope because Christ is our hope to eternal life and a life that is abundantly filled with love here on earth. That is all. :D
On a whole lot lighter note, here is what I've having for breakfast lately. Of course I am linking this up to Jenn through her WIAW posts!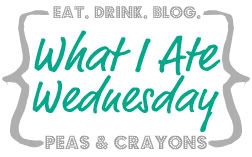 Ahem. Do you love the new (on-sale) purple place mat from Sur La Table? :P
I've been trying out the GF blueberry waffles from the Van's brand. This was so delicious! You need to try it as a sandwich with SSB and Greek yogurt! Or not.
I truly do love the texture as well as the taste, but it doesn't necessarily make my stomach feel that great! Perhaps it is just coincidence, but I usually have a hard time going to the John after eating this. I would recommend it if you have a strong stomach and bowels, though! Sorry is that TMI? :)
Lately I have been making it a point to spend at least some more quality time with my family. In particular, I want to help my sister and Daniel get some more fun in because they haven't been able to.
Yesterday we decided to go to Old Towne Orange and walk around. Hmm...A lot of fro-yo was consumed along with a Cupcake Wars Winner banana cupcake. So good! It definitely inspired me to experiment in the kitchen.
Daniel where are you looking?!
Random fact: Did you know that this circular park with all these benches is where Forrest Gump was filmed?! Oh my I love that movie and imitating Forrest haha. Greg and I can go on for hours imitating the characters. He actually tells me that I sometimes give "The Forrest stare". I am not sure if that's a compliment or not...
And today I went to "work" but not really! ;) Cameron's other aids, Sami and Robyn, and I took him to the Long Beach Aquarium of the Pacific this morning.
It is one of his FAVORITE places in the world and we had such a good time! (Despite my 100 yawns a minute from being sleepy haha)
Ahoy matey! Argh arrrrr arrgghhh
I am truly so blessed to be able to work with Cameron and pretty much everything I have in my life. *sigh*
Now on a much heavier note, I am sure that all of us have heard about the mini earthquakes that have been striking throughout the US. I mean come on, Virginia?! I believe even Peru had some strong jolts today?
My point is, more often than not, we see nature wreaking havoc more than has been recorded ever before. I am not about to say that God has lost control either! In my human eyes, it may seem as if God has abandoned this world. However, it says in His Word (the Bible), "For My thoughts are not your thoughts, nor are your ways My ways, declares the Lord." -Isaiah 55:8-
Although my heart may sometimes tremble and fear for this world, I know that in the end God is victorious and will use those horrific things that happen for His purposes--to bring the Gospel and His love to all of us in some mysterious way--even those of us who constantly run away from Him! I am not saying that He causes disasters, but I am saying that He is the master of bringing beauty from ashes.
Life is truly too short to not live by God's side and being filled with His love, joy, and peace. Not only that, but life is too short to deny the salvation that He has for all of us...so long as we believe and follow Him wholeheartedly...
My dear friends! I just want you to know that none of us should ever live life unfulfilled, and God is not about to give up on any of us just because of our wavering faith! (At least, mine can be quite lacking and mediocre :P)
And with that in mind, ask Him to show Himself to you because He will. This is not my promise, but His.
Also, go on and tell somebody that you love them.
Oh, and don't forget to cherish the little things in life that make up a whole grand scheme of God's purposes for you. Let us enjoy this very moment, and let us look forward to what the future holds.
PS: I hope you don't exit this page all frightened! I just want to remind us that this life is truly precious if we allow it to be. :)
Love,
Ellie <33