Hello!  Can I just shout that God is so so so good?!!!!!  He is good and faithful!!  Woowhoo! If you recall the "mini scare" I had the other day at the doc's office, you would know that the test results just came out this week.
The Dr. gave me the blood test results yesterday, and I can victoriously say that I AM HEALTHY!
I think that  writing about this event and talking about it with other people really helped me to know that no matter what, God is truly in control.
Whatever would happen, I was ready to still thank God for who He is.  And perhaps IF the results were negative, then I would have begged Him to heal me! Haha.
Thank you all for the kind wishes and prayers.
I am also utterly taken aback by the responses the last post received!
Hehe I always had wedgies
In fact, I was so taken aback and blessed that I just had to wink hard at ya!  *I was known as the little girl who always winked at everyone, especially men my dad's age*  Don't ask. :P
I am just very happy to know that the last post spoke to your heart+mind, and that some of you are even taking the steps  to do without the catalyst that fuels your insecurities:  AKA, fashion magazines, etc.
Now onto the WIAW that Jenn has been hosting for this community!  I believe this is my third one? :)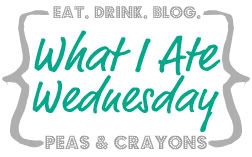 Breakfast was an easy one since I had work early this morning.  I used up my sister's Skippy jar for hot blueberry oats!
Hmmm you'll just have to trust me that there is oatmeal underneath all the granola, coconut butter, and homemade carrot muffin pieces. :P
I also have a super delicious, healthy, and fast recipe to share with you!
This recipe is inspired by a veggie stand at the Downtown Fullerton Farmer's Market.  Boy, do they offer so many great samples there! I always get some great ideas when I look at the samples they give out.
Fresh Citrus Veggie Salad *VN*
Ingredients:
2-3 bell peppers (I used multi-colored), chopped
half of an onion, roughly chopped
2 large tomatoes, chopped
1-2 medium cucumbers sliced into semi-circles
1/2-1 whole avocado, cubed
handful of cilantro sprigs, chopped
1 tsp sea salt
black pepper
juice of 1 whole lemon
Directions:
Grab a large bowl and simply add all the vegetable ingredients into the bowl.
Then, add the cilantro, salt, pepper, and lemon juice.  Toss it all together until it's evenly coated.
If you let this sit out for 15 minutes then the flavors will infuse better and give it that punch.  Or, you can go ahead and eat it right away and it is still so refreshing and delicious!
Makes approximately 8 servings. Enjoy! :D
I paired this salad with Great Harvest's Mission Crunch Bread, slathered with TJ's refried beans, Cedar's Garlic Hummus, and TJ's Tzatziki sauce!! *gasp* Did I mention once how much I love Tzatziki?  I did.
Right afterwards, I had some Trader Joe's coffee that I purchased today!! I am so very thankful to Averie because I saw that she grinds coffee beans at TJ.  I didn't know they offered this luxury until recently.  So I went ahead and tried the Pea Berry blend.
It's a Medium Roast blend and I highly recommend it.
I always look for coffee that is somewhat bold+strong, yet gentle and complex.  This one definitely owns all of those! :)
By the way, here is a little bit of the fun that Greg and I have sometimes.  The other day we went to the park and took "pretend engagement photoshoots"!
The funny thing is that we couldn't take pictures of us together haha.  Yup, we are so easily entertained and I love it.
I love these last two pictures of Greg. <3
Greg, you are a natural model. ;)
I hope you have a blessed day and please...let's remember that we are loved beyond what we see on the surface!  We are loved because we are made in HIS image.  Muah. Ta-ta!
What are your favorite salad recipes?  Share 'em with me!
What are some quirky stuff you did as a child?!
-Apparently I winked my eyelids off :P
Why do you think you have certain strongholds and insecurities? (Can be anything! Success, career, looks...)
-For me, it started in my childhood friendships.  The way I was brought up in a split culture was fun, but had some consequences as well.   They say that many strongholds begin when we are children.
Love,
Ellie <33