This morning I woke up craving some waffles, so waffles it was.  :)  Actually, I was debating between oatmeal and waffles.  No sirree.  It couldn't be anything else--but waffles or oats. It's been a while since I've shared my breakfast with you, so please make yourself comfortable and let your eyes feast over these photos.
Thank Jenn for this cruel post that I'm about to show you, because it is Wednesday! :P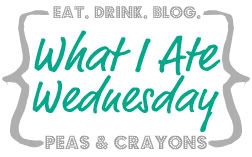 I toasted up some Van's 8 Grains Waffles this morning.  I drizzled Sun Harvest Crunchy Almond Butter <-- So amazingly delicious, and pretty inexpensive too!  And Greek Yogurt, cottage cheese, fruit, and homemade Pumpkin Spice Granola.
On the side, I made a Pumpkin Spice Latte without all the extra sweeteners, by using my handy dandy milk frothing wand. :D  I brewed some of Godiva's Pumpkin Spice coffee that I purchased at Wal Mart.  I'm not sure if they still carry it because it's a seasonal item, so check it out if you have the chance!
So, speaking of granola....
I made this granola a couple of days ago, because I realized that I've been out of crunchy goodness for several weeks! 
*gasp*  The horror!
Somehow along the way (through blogging), I have become a drama queen.
Pumpkin Spice Granola
Ingredients:
1 1/2 C old fashioned rolled oats
1/3~1/2 C walnuts
1/4 C ground flax seed (optional; can use other seed)
2 tsp cinnamon
1 tsp pumpkin spice
1/4 tsp sea salt
1/4 tsp baking powder
1/4 C pureed pumpkin
1/3 C pure maple syrup
1 TBSP coconut oil (or any oil)
Directions:
Preheat your oven to 350 F.  Then, in a large bowl, stir all of the dry ingredients together.
Add the wet ingredients and mix everything.
Line a baking pan or cookie sheet with foil or parchment paper.  Lightly spray the bottom with PAM.
Pour the granola ingredients onto the pan and roughly separate them.  The bigger the cluster, the less separation is required.
Bake for approximately 30 minutes.  If you want to shorten the baking time, then I suggest raising the temperature to about 375 F.  :)
I am also so excited to share with you this cupcake recipe!  I had a few many trial and errors with these cupcakes, until I finally came up with this moist and slightly healthier cupcake.  But, it's a cupcake!  So it will still contain butter and sugar.  Hey, I did the best I could. ;)
The recipe includes Organic Pastry Flour, but it can be subbed with anything like all-purpose, Spelt, or even whole wheat pastry flour.  Pastry flour is good for baking, primarily because it's pretty close to all-purpose flour in terms of its texture.  However, the bonus is that it's not heavily bleached and treated with chemicals like all-purpose is.  So it really is a matter of preference.  I find that Spelt and Whole Wheat Pastry flour are great alternatives to all-purpose.  In this case, all I had was Organic Pastry Flour.
Chocolate Cupcake with Peanut Butter Frosting
Ingredients for Cupcakes:
1 1/4 C Organic Pastry Flour
1/4 C unsweetened cocoa powder
1/4 C semi-sweet chocolate chips
1 C boiled water
1/2 C brown sugar
5 packets of Stevia***
1 1/2 tsp baking powder
1/4 tsp salt
2 whole eggs
1/3 C coconut oil, melted or softened
2 tsp vanilla extract
Ingredients for Frosting:
1/2 C butter (or Earth Balance)
1/4 C unsweetened, natural creamy peanut butter
1 1/4 C powdered sugar
4 TBSP almond milk
1/2 tsp vanilla (optional)
Directions:
Preheat your oven to 350 F.  Boil 1 C of water.
Transfer the water to a small bowl/cup, and add the chocolate chips into the hot water.  Stir it well so that the chips melt.  Then, add the cocoa powder into the water and stir it until everything melts together.  Let it sit and cool down for 10 minutes or more.
In a large bowl, stir the flour, Stevia, brown sugar, baking powder, and salt together.  (From the cupcake list)
Add the eggs, oil, vanilla, and melted chocolate into the mix.  Gently stir and fold the mixture.  I prefer using the whisk for only a little while, and then using a rubber spatula to gently fold it in.  This way, the batter doesn't toughen up after it's baked.
Line a cupcake pan with cupcake liners.  Pour the batter at about three fourths of the way up.
Bake for 24 minutes, or until the inserted toothpick comes out relatively clean.
In a food processor or stand mixer, add the butter and peanut butter.  Mix it up until it's smooth and without chunks.  (You may use a handheld beater instead)
Add the powdered sugar, and little by little, pour in the milk.  Keep mixing and scraping the sides until the frosting becomes smooth and velvety.
To frost the cupcakes, I cut a little hole at the tip of a ziploc bag.  I scooped the frosting into the bag and twisted the opening of the bag.  Then, I squeezed it from the outside-in on the cupcake, in a circular motion.
Mmmm...Will you be mine?  I'm kind of crazy.  I talk to food!
***Stevia:  If you do not like Stevia, or don't have any on hand, then you can make the brown sugar into 3/4 C instead of 1/2 C.
I hope you have a blessed day, and may your week be filled with joy, peace, and love!
Love,
Ellie <33