Hello everyone! Happy Wednesday, and happy WIAW!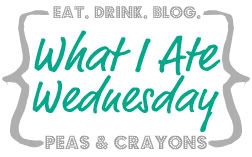 Don't fret because of the title.  They're not actually
real
squirrels like you see out in the wild.
These squirrels are in the form of delicious, gooey, velvety, flavorful peanut butter!  Weee!
1) Bright Eye & Busy Tailed (Espresso), 2) Pretzel Pizazz, 3) Curious Cocoa-Nut, 4) Sneaky Cinnamon
Welcome this new stash of nut butters into our family, because I've been out of nut and seed butters for quite some time now!
*Scratches head*
Or I may be exaggerating.  It was probably more like 5 days, but that's still pretty long for someone who can live off of it! :D
I purchased this 4-pack of Wild Squirrel PB through Opensky, because I had a lot of credit and there was a free-shipping promo, so naturally I thought, "why not?!"
I like the ingredients they use at Wild Squirrel  because they taste fresher and smoother than many nut butters out there.  This espresso flavored one is amazing!  It actually did wake me up some and it's not overly sweet.
Teehee...I just had to show you the texture and espresso specks in their velvety glory.
I had one too many a few spoonfuls of it before a dollop of it went on top of a Green Smoothie in a Bowl.  This bowl contains fresh spinach, milk, water, ice, protein powder, banana, frozen peach slices, and a pinch of Xanthan Gum.  Quite a satisfying post-workout snack!
There are days when I just squeeze in a whole baking marathon in my kitchen.  Sometimes the end results are flops, and sometimes they are worth some air time here on the blog! (At least in my opinion.) :D
I made these little things that I like to call "Brookies", err..."Barookies"?  This batch was followed by the healthy coconut macaroons for a special someone.
This was really fun to make y'all, and I intend to share it with you all.
But you will have to trust me and wait for the recipe because, this gal will be quite busy with work-related business, wedding details, and playing with Greg's parents!  Yayyy!  They are coming in this week and I am elated to be meeting up with them.
Okay, gotta jet.
Have a beautiful day!
Have you tried Wild Squirrel PB?
Love,
Ellie <33