Lately it's been quite busy with volunteering and spending time with Greg's parents.  As you may already know, they live in Kansas and come down whenever they get the chance. Last weekend was Greg's pastoral ordination (hallelujah! :D) and they made sure to fly over to Cali to celebrate this special time with us.
Greg and I also had the opportunity to take 'our kids' (the ones we volunteer for) to the Home Depot Center to watch a Galaxy Game!
Yes amigos y amigas, that is Mr. David Beckham himself!  We had front row seats and thanks to God, we all got free tickets through a sponsorship program called "Kicks for Kids", which prides itself in helping out children who can't afford to watch games at the stadium.  All the 5th graders thoroughly enjoyed themselves and then some...
They're such cuties I tell ya!
Just the mere fact that we got to make their day brighter through this fun event made us feel so grateful and blessed.  There's nothing like serving others, even when there are other note-worthy things going on in our own lives.  We feel more "alive" when we do just that, because we're constantly reminded that life ain't about us.
And now onto the eats! ;)  This WIAW thang is hosted by Jenn from Peas and Crayons.  This girl always has yummy eats on her blog!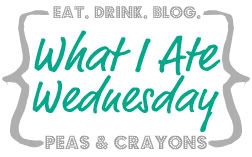 Breakfast
Oh.my.goodness!  Today's breakfast was delicious and packed with protein all at once.  I cooked up my beloved protein pancakes with Greg's chocolate protein powder (I ran out of mine), but instead of the usual addition of oats I decided to go with light rye flour.  If you're not too familiar with using rye flour, let me just tell you that you might just be missing out!  The texture is extra fine and it makes fluffy and delicious pancakes.
I'm telling you people, Greg gets spoiled by me all the time!  Especially when it comes to good food....Mehehehe.
I made him regular pancakes with the same rye flour, and they came out so perfect that he deemed them to be the best ones I've made for him so far. On the side, he had cheesy scrambled eggs along with fresh fruit.
Lunch
I know I'm not the only one who eats a mish mash of random foods for lunch.  :P  I had Argentinean baked beef empanadas with fresh greens, avocado, and a super tasty stew that I made last week.  Unfortunately I can't find the recipe I wrote down.  Ahhh!  I guess I'm destined to lose every other recipe I record.
Venturing Out Like My Filipino Bros and Sis
One of the very best things about becoming part of a different ethnic congregation--and believe me, there are many positive aspects to it--is the food.
Period.
Up until our recent move to the city of Carson and our new church, I wasn't quite familiar with the Filipino culture and all that it entailed.  I have some friends who are Filipino, but they're probably just as Americanized as I am!
Almost every Sunday these hospitable brathas and sistas cook up a delicious array of Filipino dishes.  That means, main course and desserts.  So far I love everything I've tried!
In my opinion, one of the best ways to immerse ourselves in a different culture is by thinking like the people of the respective culture and venturing out to the places that they frequent.  Today I decided to make a pit stop at Valerio's Bakery in Carson.  Every time I walk past their door I get weak in the knees from getting hit with the buttery and yeasty aroma wafting past the parking lot.
I went in and bought two different pastries for only $1.40!  The one on the left is a flaky and coconutty pastry with a sweet taro filling.  So good!
The other pastry is a delicious Pan de Sal type of bread that's amazingly fluffy and covered with sweet butter and filled with cream cheese inside.  Uhhhh I tried to have self control but after 1, 2, 3 bites I nearly finished it all.  :P
Mountain 14 Workout
1)  Burpees with Push ups-  14 reps
2)  Deadlifts-  14 reps (40 lb. barbell)
3)  Mountain Climbers- 14 reps (2 jumps=1 rep)
4)  Standing delt flys-  14 reps (10 lb. each hand)
5)  Tricep Dips on Floor with One Leg Up-  7 reps with each leg switch
6)  Mountain Climbers-  14 reps
7)  Side V-Crunch [Right]-  14 reps
8)  Side V-Crunch [Left]-  14 reps
9)  Mountain Climbers-  14 reps
***Repeat this circuit 4 times as quickly as possible and record your time.  It took me 35 minutes to complete it.***
I was wiped out from this routine!  It was like a monster, but luckily enough I had more than enough energy to use up and powered through it.
Have a beautiful day and thank you so much for the lovely comments on our wedding pictures!  Hehe, they made me smile.  ;)
Do you like to venture out to different cities/areas to try different ethnic foods?
What flour have you been loving as of late?
-rye, for sure!
Do you like to volunteer with kids?  What kind of causes would you like to get involved with?
Love,
Ellie <33