Let me just start by thanking you all for your sweet comments regarding our little Selah as well as your app recommendations. Thanks to Emily I wound up downloading the apps called My Days and the photo editing app Photo Collage since she gave me the idea to look for one. Although I don't foresee Fit for the Soul becoming a "mommy blog" per se, it is going to include plenty of life happenings featuring the babe, because let's face it, she is a part of my life now…And not including her in some of my posts would be somewhat strange, wouldn't you agree?  And even though blogging isn't a priority at the moment, I'm also hoping that I'll be able to keep a more regular blogging pattern in the near future—simply because it's one of those life indulgences that keep me grounded and connected to the world out there, and sharing life and tidbits of advice with you is such a blessing in itself!  And last, I would love to bring back the focus on recipes and workouts, but those will come in due time as things settle down some more.
Eats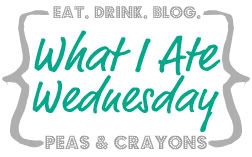 Last night I did away with my laziness when it comes to prepping the next morning's breakfast, so I finally caved in and made myself a bowl of overnight oats.
This bowl includes mashed banana, soy milk, greek yogurt, pecans, and flax seed.  This morning I added fresh blueberries (finally on sale at Albertsons!), peanut butter, and coconut butter.  It was a glorious combo after a long hiatus, my friends.
While Selah was learning the art of impatient waiting (usually she's very patient) in the kitchen, I whipped up a batch of gluten free pancakes with a side of greek yogurt for Greg.  Normally I use my recipe for gf pancakes, but lately time has been so scarce that I've been resorting to this box of Maple Grove Farms I got from Target.
Lunch today was extremely simple!  Toasted bread with cheese, a few slices of ham, avocado, and a runny egg on top!  Oh my goodness did I miss those eggs!
Fashion
Last night Greg sweetly offered to watch Selah by himself, and he usually spends several hours with her after work anyway.  He sent me off to have some me-time so that I could recharge from a long day with Selah.  I went to the mall and used up a GAP gift card that I've been holding onto for ages!  So I purchased this beautiful and most comfortable pair of grey jean leggings.  They're really form fitting and have a really nice touch, featuring cute little zippers on the side of the ankles.  You better believe that I was excited to buy some regular clothes!
And Selah turned one month yesterday!  Happy anniversary, little munchkin!
She's been doing fairly well in most areas of life, but lately she's been extremely fussy during certain times of the day.  It seems that she needs to be burped really bad or otherwise she gets painful gas problems.  I've read several articles stating that a heavy letdown of breast milk may be the issue at hand, and even though I pump a few times throughout the day I can only do it so many times.  I'm not sure how to help her feel better when this happens, so any bit of advice is most welcome!  Other than that, she has gained a significant amount of healthy weight and is a happy little baby as long as the aforementioned problems get taken care of.
Be on the lookout for a gf and vegan recipe that I came up with recently!  It includes homemade vegan ice cream, lemon, and coconut.  This picture is only a portion of what's to come, so be very excited! I hope you have a beautiful day and take care!
What food products have you been cooking with when you don't have time?
Have you treated yourself to any fashion purchases lately?
Do you have any advice on breastfeeding and baby gas problems?
Love,
Ellie <33