Happy Wednesday everyone!! Yowza.  I cannot believe it's almost Sunday--at least in this brain of mine. :) Since it is the middle of the week, I will do another WIAW post, courtesy of Jenn, as well as what I have been loving lately.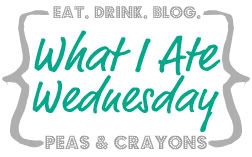 First runner up is breakfast of course!  I am definitely one of those people who topple over if I don't fuel right in the morning.
This delicious bowl contains carob oat bran with mashed banana, blueberries, almond poppy seed granola, and PB.
Today's lunch features the last of my Rudi's Spelt English Muffins (so good!) toasted, with refried beans, avocado, dijon mustard, and Provolone cheese.  I had that alongside my Momma's side dishes:  grilled salmon and seasoned spinach.
I also tried some of the Picky bar that Carrie sent me for a swap.  Let  me just say that if you are a picky eater, then Picky Bar is definitely for you.  C'est tres delicieux!  And merci beaucoup Carrie!
I also had some of this beauty that I concocted yesterday in the kitchen muuahaahhaha.
I wanted to do something nice for Cameron's mom (my student's mom) and my friend Haein whom I have been training for the job.  If you recall from previous posts, I am slowly letting go of the reins in this job and looking for permanent positions.
I just love to help people and treat them with something special, even if that means whipping up something in my "bakery" at home.  I don't really have a bakery, but a girl can dream right? :D
When I had immigrated from Argentina to California, I discovered that I had a strange apprehension toward most U.S. sweets.  Perhaps it was the fact that Argentina has some of the yummiest foods and chocolates.  Or perhaps it was the nostalgia that arose within me when I was longing for my homeland.
Fortunately, I finally realized that Reese's chocolate and Almond Joy were a few of my favorites!  In honor of that "life changing enlightenment", I came up with...
Almond Joy Huge-Thumbprint Cookies
Ingredients:
1 C whole wheat pastry flour
1 C oat flour (I processed regular oats)
1/2 tsp salt
1/4 tsp baking soda
1/4 C coconut sugar (or brown sugar)
flax egg (1/4 C warm water+2 TBSP ground flax)
1/4 C butter (or Earth Balance)
1 large banana
1/2 TBSP vanilla
1/4 C maple syrup
1/2 C melted chocolate chips
1/2 C shredded coconut
Directions:
Preheat the oven to 350 F.
In a medium bowl, mix all of the dry powder ingredients except for the shredded coconut.
In a stand mixer, or a bowl and a regular beater, start by creaming the butter and banana.
Add the coconut sugar.  Mix for a few seconds and then add the flax egg, vanilla, and maple syrup.
Pour the dry ingredient mixture into the wet ingredients and mix until it is thoroughly incorporated.
Make golf ball sized cookies with the batter and place them on a buttered cookie sheet.  In the center, press in with your thumb (I made the holes big) until it leaves a nice dent.
Get your melted chocolate chips and spoon the chocolate into the dent.
Bake it for about 10 minutes.
Then, take out the cookies and quickly sprinkle them with the shredded coconut.  Bake them for about 4 minutes.  When they are done, let them cool down on the sheet for 5 minutes.  (This is important because it allows cookies to finish off the baking process)
Serves approximately 14.
As you can see, coconut sugar is a brown sugar that is not highly processed, and therefore better for our bodies than the other alternatives.  It has a low glycemic index of 35, which doesn't make our blood sugar spike up like regular sugar does.  It contains a lot of "Potassium, Magnesium, Zinc and Iron and is a natural source of vitamins...." (Essential Living Foods)  Not only that, but it also helps farmers of small communities keep bringing home the bacon, for lack of better term. :D
I purchased mine from the store's bulk bins and it is rather affordable.  And don't worry! If you don't fancy coconut flavored things, this sugar doesn't have a strong coconut taste.
Enjoy!  I hope all this food talk didn't bore you to death! Hehe.
I've also been loving Rodney Yee's Yoga Burn DVD!
It is composed of yoga poses that move through very very slowly.  Think "turtle strides-slow".  Due to the slow movements, the burn factor is increased x10.
At first, I underestimated the efficiency of these movements as well as the challenge.  Apparently I was wrong and it is really good at working yet relaxing the muscles.  Another bonus is that time actually flies by!  I highly recommend this DVD, and I have heard that Rodney is quite the yogi and is a great instructor.
Since Greg is starting school this week, we took advantage of our free time and went to the beach yesterday!  It was so beautiful.  Whenever I see such beauty around me, I cannot help but imagine how the Lord simply spoke everything into existence.  Truly, my tiny human brain has a hard time trying to fathom that reality.
Right on time before it popped!  This was at the Farmers Market by the beach.
What have you been loving lately?
Do you know what your "love language" is? 
-My strongest one is "service".  I read the book by Gary Chapman and took the test a long time ago, but I believe you can take it for free HERE!
Are you a mountain or ocean type of person?
-This one always stomps me! I can't decide, but I think that the ocean offers so much and it's so refreshing.  But at the same time, the mountain offers so much solitude and symbolizes victory.
P.S.:  By the way!  Isn't this some crazy and sad reality?? We really have to pray and fight on behalf of these victims!  It's not only in China, but in pretty much all of the world including the United States!  Something to REALLY think about.
Love you so much and have a blessed day!
Ellie <33