Hello!  I hope you're having a wonderful Wednesday, and how can you not when there is WIAW involved?  ;) This morning I woke up feeling rather groggy and overly tired.  I'm not sure if my shoulder injury has to do with the extra fatigue, but I wouldn't doubt that to be the case either.  I know that all I needed this morning was some peace and quiet.
Oh, and apples and coffee too.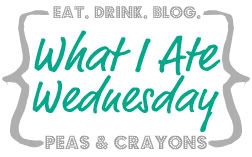 Can you guess what this funny lookin' breakfast is made of?
No it's not a burrito.
Well, I guess it could be!  But what I was aiming for is more of a crêpe.  You know, the fancy and delicious French dessert that we all seem to love?
I created an Apple Normandie-type crêpe with Hodgson Mill's gluten free pancake mix.
Not only do I love the texture and taste of this mix, but I also like it because it's a quick way to have a great wholesome breakfast for those days when I'm in a hurry or feeling less than awake, like today. :)
I thinned out about 1/3~1/2 C of the pancake mix with lots of water, milk, cinnamon, vanilla, and a little bit of egg whites from the carton.
After making it into a really thin crêpe in a sprayed skillet, I went ahead and put a minimal amount of butter in the same skillet to cook the apple slices with some cinnamon on top.
The spread for the crêpe was Wild Squirrel's Sneaky Cinnamon peanut butter.  I topped it with some coconut cream that I made with coconut flour, milk, lots of water, and a few drops of Stevia.  One can say that this plate was cleaned off in a matter of a few minutes. :P
I was inspired to make this breakfast because a few weeks ago, Greg and I tried this at Crêpes de Paris on Birch Street:
Filled and topped with caramel sauce with a side of vanilla ice cream
This crêperie has the cutest pictures on the walls and displays a fun yet simple decor.  The ambiènce makes me feel like I'm dining on the streets of France!
Now I'm wanting to go back for some more!  And if you'd like to make healthy crêpe at home, then something like this or my buckwheat recipe might just be what you're looking for.
The Woes of Budgeting
Today Greg came over because we needed to do some work ahead of time for the kids we volunteer with.  After all that was done, we also worked on budgeting!!
Ay ay ay...budgeting for marriage is no joke.  It's a truly difficult task because not only does it make my head spin from all the additions and subtractions, but having to face the reality that sometimes money might be really tight is not very pleasant in my book.
However, it's a duty that no one should ever avoid or run away from!  I am naturally a "do things as you go" type of individual.  On the other hand, Greg is a total planner when it comes to things like this.  So in the end it works out because he motivates me in that way, and we finally got that finished.  Yay!
In order to fuel ourselves I made us super tasty omelets.
If you can't tell by the picture, the portions were ginormous! :D
Dill and Goat Cheese Omelet
Ingredients:
3 whole eggs+1/4 C egg whites
2 TBSP milk
1 stalk of celery, chopped
a quarter of chopped onions
1/4 C chopped tomatoes
1/4 C fresh spinach
1 TBSP chopped dill
1/4 tsp sea salt (or regular)
black pepper to taste
2 TBSP crumbled goat cheese
Directions:
1)  In a large bowl, mix the eggs so that the yolk is broken apart.  Then add the rest of the ingredients.
2)  Lightly spray a skillet and pour in the mixture in 2 or 3 increments, depending on the number of servings.
3)  Carefully flip the omelet when the top isn't too runny.  Serves 2 large servings or 3 medium ones.
Greg and I both loved this simple recipe because it's packed with protein, vegetables, and it was pleasantly delicious.  His included mozzarella instead of goat cheese because he's not a big fan of it.
I hope you have an awesome evening and take care!
PS:  My shoulder is still a bit sore but I'm doing this exercise in hopes that it'll speed up the recovery.
PPS:  Don't forget to enter my fave foods and Under Armour giveaway!!!
Goat cheese, yay or nay?
Do you normally budget?  What are the biggest struggles for you?
Do you tend to remake certain foods you ate at a restaurant?
Love,
Ellie <33