Hello everyone!  How do you do today?  I hope you are having a marvelous Wednesday. I just wanted to stop by and say hi.  Also, can I say that I am so looking forward to the Foodbuzz Fest?!! Tyler Florence, anyone?
Yup, I plan on bringing a wooden spoon and getting it signed by...whoever is merciful and kind enough to sign it for little ol' me!  Hah!
Since it is Wednesday, I will share with you what I had Wednesday.  I know, I know...You may be bored to tears, but humor me--as my breakfast today was quite an exciting dish.  Go check out the host's (Jenn's blog) if you get the chance. :)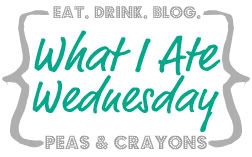 It's a quick and lazy version of my Yammy Veggie Frittata from several months back.  It was half baked in a baking dish, and then microwaved because my stomach could not wait any longer. :P  The side was some Spelt pancakes topped with SSB and fresh figs.  Aren't figs so pretty in photos?
Lunch today was some leftovers from an Italian eggplant dish that I made for my mom's birthday, which was Monday.  The pasta sauce is crock-pot made.  I cooked it for 6 hours while I was doing some work outside of home, and I am extremely surprised at how delicious it turned out.
Lately I have been having a case of the Spelt flour addiction.  It's truly such a versatile flour that makes great breads, cookies, pancakes, and so much more.  Although it is not wheat based, it has a slightly nutty flavor, and a perfectly light texture; hence, it's great for quick breads.
It is also great for a healthier form of Ginger Snaps.  So I will just show you a "snap" shot of this amazing, wonderful treat.
This gingersnap recipe is rather easy, and I was pretty amazed at how well they turned out.  Not only are they a bit healthier than regular snaps, but they contain Spelt flour, fresh ginger, and they taste like Anna's Ginger Thins.  Have you ever tried those?!  Oh my are they delicious... But I must say that I prefer these over the store-bought snaps/thins because they don't make my teeth hurt like their sugar-laden counterparts do.  The recipe will be here soon.  I'm sure you can tell I'm excited haha.  What can I say?  I'm easily amused.
Have a blessed day and stay warm y'all~ :D
Favorite store-bought cookies?
Which celebrity chef would you like to meet?
-I can't pick just one!  But I would love to meet Ellie Krieger because of her awesome personality and health-conscious cooking.
Love,
Ellie <33