Holy St. Pete... I cannot thank you all for your lovely, kind, and encouraging words regarding my dress!  Not only that, but I know that many of you are genuinely excited and rejoicing with me during this once-in-a-lifetime moment.  *tear, sniff*
So...Thank you!  Gracias.  Arigatoo. Obrigado! (In as many different languages as possible) :D
Now, although everything seems good in my life, by no means is my life perfect.  I do love it and I love everything about it!  However, I realize that while in this world, everything will not always go the way I want it to.
Even during these oh-so-fluttery-times, I am still facing the consequences of being a recent graduate.
Let's just say that... my faith is being tested from every angle imaginable, and I have absolutely no control over finding a full-time job, except for the long hours of hard work that I put into job searching and applying.
I have to admit that there are times when my parents' worries get the best of my trust in God.  You see, they are fearful that their precious, treasured, youngest daughter will not make it out there in the real world.  Or worse yet, life...
It's only natural though, and I completely understand that.  They want me to succeed (secretly wanting me to be a lawyer or a doctor of course), and they want me to thrive in the "grown up" world.  And naturally, I just want to give them every luxury of the world, or at least some support as they get older and I become "more successful" in life.  (Success is subjective, and they want me to go above and beyond, which isn't bad really).
Nevertheless, even such a "noble" desire is not always the best thing in God's economy--at least not at the time.  Sometimes, His ways are truly different from ours, and His thoughts are definitely not our own.
With so many transitions going on, and with the changing seasons of  hopeful anticipation
I am learning all over again that God is a God of waiting.
Waiting is such an art in itself.  Sometimes, it may even seem like one is not moving backwards nor moving forward.
Nevertheless, there is always that prospect of receiving an answer and direction from the Lord.  So waiting is really not a bad thing, it's just a difficult thing.  Difficult in my book, is beautiful because it challenges me to grow.  It triggers me to imagine the unimaginable, and it takes me to places that I couldn't have gone by my lonesome self.  And that's because God breaks me out of my comfort zone and takes me to His desired destination.
Which brings me to this verse:  "The Lord is good to those who wait for Him, to the person who seeks Him." ~Lamentations 3:25~
They say that waiting can be the hardest thing to do in life.   I'm beginning to think that it's quite true.    However, in the Bible the Lord promises that He will take care of us regardless of our circumstances!  I believe that there is no greater joy than going through some tough times with Christ Himself, than have everything given to me on a silver platter--without a relationship with Him. :)
As I am [trying] to get deeper into His Word, I am constantly reminded,  " Look at the birds of the air, that they do not sow, nor reap nor gather into barns, and yet your heavenly Father feeds them.  Are you not worth much more than they?" ~Matthew 6:26~
As I continue to pray and stay close to His voice, I strive to seek His face, rather than His hands.  I realize that it is far more than merely receiving God's provisions, but it is about seeking His will first, just because He loves me--and I love Him...In the end, it is not about me, but about Him shining brightly in my every step, and in my every breath.  And if this is what He wants from me, then why wouldn't He bless me with something that is beyond my most extravagant imagination?!  I say, amen to that.
This may be a tough journey!  But I truly have nothing to complain about nor be fearful about.  Although worries may arise, I am going to cast those out in Jesus' name because He has given me the victory.  As long as He stays by my side walking every step of the way, I am fine with that and I am beyond grateful.  And you know what?  He is. :)
For now, I will diligently pray, diligently apply, and diligently serve others (not to ignore my situation) because there is no better remedy and joy than to bless others rather than myself! Blessing and serving others is an amazing benefit to our souls and others'.
***These photos were taken at a park near my home.  I find that being in a natural environment  is the best way to settle my heart as I reflect upon life and the things of God.  Plus, people watching is fun!***
Hmmm...I know that this was not necessarily what I like to call a heavy post, but it was something that may stir certain deep thoughts within all of us, and perhaps it may speak to many of us at different levels.  Let's keep each other accountable and lift each others' spirits!
****************************
Okay but really, did you think you would get away without a WIAW? :P  Thank you Jenn for hosting this!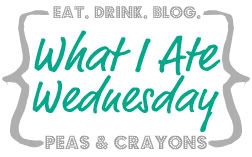 This morning I made 2 servings of this beauty right here.
It is a combo of Kodiak Cakes mix, along with 2 whole eggs, 1 tsp of baking powder, 1 TBSP of Chia seeds, 1 tsp vanilla, 1 whole mashed banana, and frozen cherries.  I guess this can be a rendition of Ashley's Buckwheat Bakes.  This cake thingy majigger was so fluffy and moist!
The star of the show AKA toppings, is fig spread, coconut butter, Sunbutter, and dark choc chips.  Oh yeah, and for good measure I added some of my fave chocolate in the whole wide Argentina+Germany:  Milka.
[Source]
Have you tried these?!  They are sweeter than I prefer them to be, but for milk chocolate these are the best in my honest opinion.  I believe you can find them in 99 cent stores now, as well as The World Market.
For lunch, I usually crave veggies veggies and more veggies!  It's like my teeth cannot get enough of them! :D  Strange.
While I was working out, the toaster oven was roasting away some parsnip fries, broccoli, and potatoes.  Potaterz!  As Paula Deen suggests.  I had it with a side of Chipotle's leftovers, avocado, my mom's marinated eggs, and Laughing Cow Cheese! One word.  Mmmm. (Even nephew Daniel loved the parsnips.) Yay!
And lookey what we have here!!!
If you recall a few weeks back, we all went to my cousin's wedding.  Their favors were a simple but cute idea, which was a mini pot that contained soil and a little bean.  I believe it was a Fava bean?
My sis and I decided to plant it despite our original belief that we had black thumbs!
And look at the beauty sprouting up in these pictures.  There is something so amazing about this little bean!! It keeps growing at least a 1/2 inch-1 inch each day!  Quick, somebody get me a bigger bathroom to put this in. ;)
Seriously though, I feel like this bean is a reminder once again, that although we may not see fruit right away in our own personal lives, as we continue to trust God that He is in control, we will slowly but surely see a little bit of that fruit.
Phew!! I totally feel better after divulging everything unto this piece of writing.  It's amazing how writing can be so therapeutic.
Best thing you ate today?
Are you going through a tough season in your life?  How have you been handling it?
When I have a lot on my heart/mind, I _________________.
-pray, read the Bible, take long walks, work out, bake!